Merry Coffee, everyone!
Christmas has come early for caffeine-lovers as Starbucks annual holiday red cups officially hit stores on Nov. 7, with four new seasonal designs for fans to snap a red cup-selfie with. 
2019's offerings for the long tradition include four designs: polka dots, merry dance, merry stripes and candy cane stripes, with the company saying in a statement that the trendy designers and bright colors are meant to "evoke mini moments of joy for our customers and partners—it's fun, festive and uniquely Starbucks."
Plus, like last year, the company offered a limited edition reusable cup for the seasonal sippers to enjoy their Peppermint Mocha, Toasted White Chocolate, Caramel Brulee Latte, Chestnut Praline Latte or Eggnog Latte in, with the added bonus of receiving 50 cents off any future drink purchases through the holiday season if they used the cup.
2019's four festive designs for the highly anticipated red cups, which first debuted back in 1997, were pretty well-received, though not all of Starbucks' releases received such a jolly welcome. 
In honor of Starbucks red cup day (aka the unofficial start of the holiday season, sorry Thanksgiving!), we're looking back on all of the coffee juggernaut's holiday releases since 2005, including the one year that some believed launched "a war on Christmas."
So grab your preferred seasonal beverage and take a stroll down memory lane…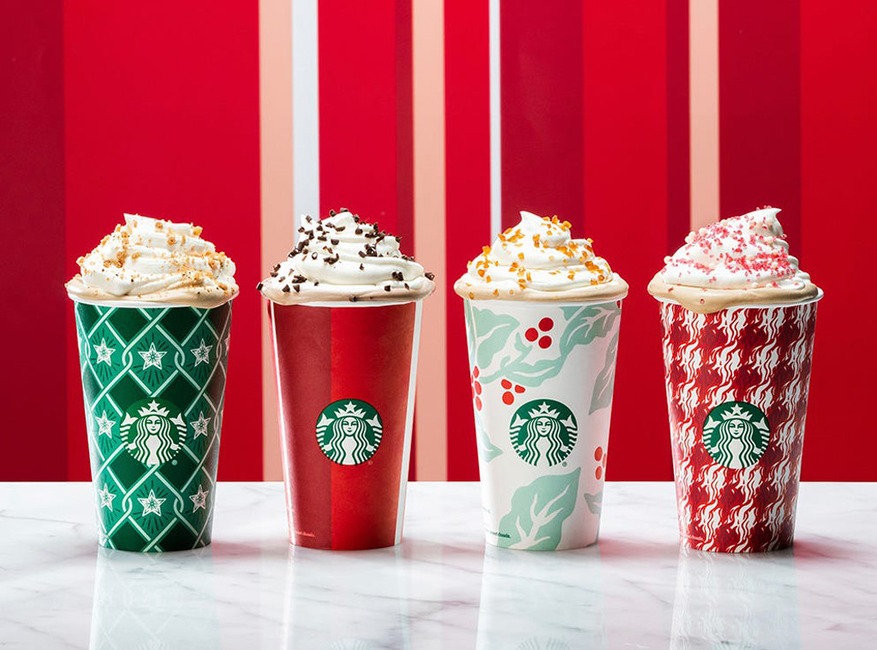 Starbucks
2018

Last year, Starbucks debuted four designs for their seasonal cups, generating mostly positive feedback, with the offerings paying homage to previous design elements but with a twist, using vintage colors and patterns. This  was also the first year the company introduced the reusable holiday cup, with customers getting 50 cents off their grande holiday drink if they brought it back through the holiday season.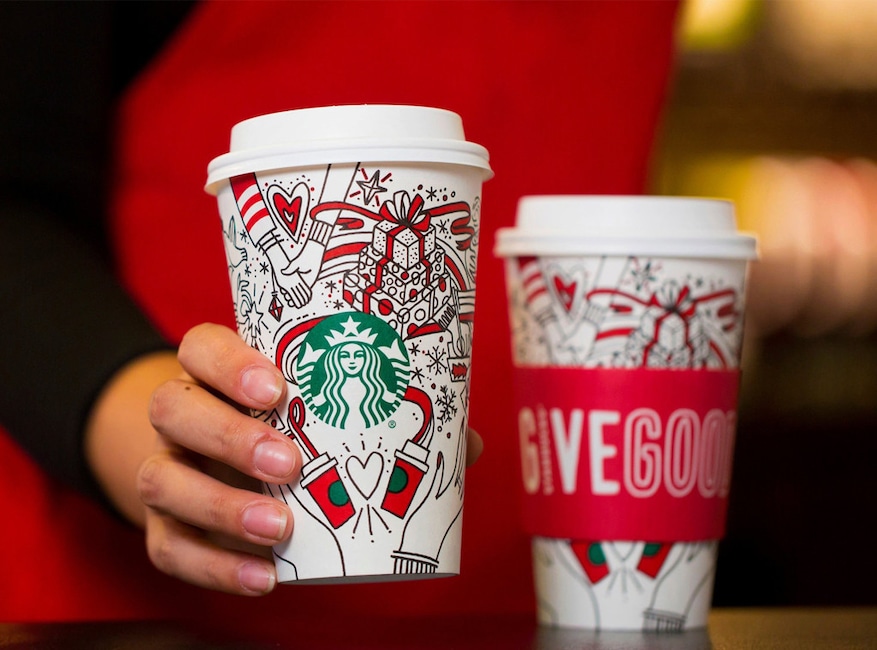 Starbucks
2017

It was all about customer customization in 2017, with Starbucks announcing that season's holiday cup was "intentionally designed to encourage our customers to add their own color and illustrations. We love the idea of everyone making this year's cup their own."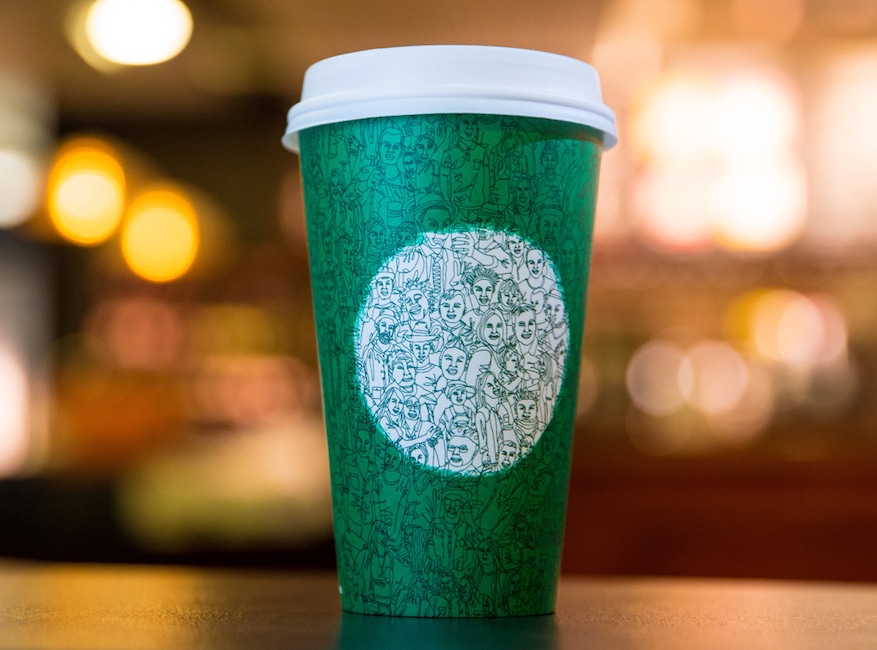 Starbucks
2016's Unity Cup

OK, so this technically wasn't a holiday cup BUT it caused a bit of a stir online when, following 2015's cup-related controversy (more to come on that!), Starbucks first unveiled this GREEN mosaic design, featuring over 100 figures intertwined, including a barista, coffee farmer and friends, to name a few. 
But Starbucks announced it was a limited edition Unity Cup, with CEO Howard Schultz explaining, "The green cup and the design represent the connections Starbucks has as a community with its partners (employees) and customers. During a divisive time in our country, Starbucks wanted to create a symbol of unity as a reminder of our shared values, and the need to be good to each other."
Sbux soon released the actual holiday cup for the season, which—phew!—was red. And all was calm caffeinated, all was bright.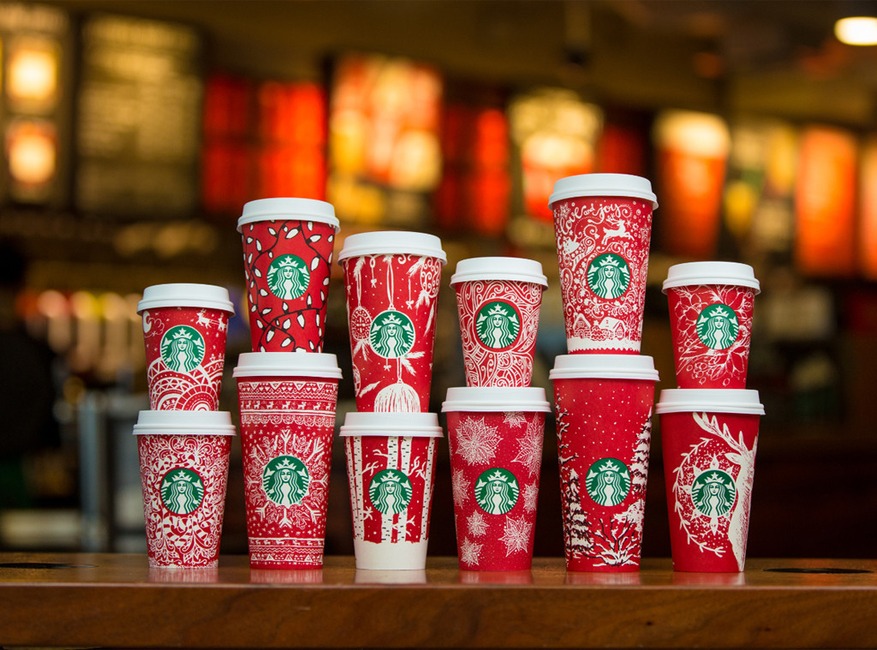 Starbucks
2016

Forget the 12 days of Christmas, it was the 13 cups of Starbucks' holiday season this year, with the designs being created by customers. Designs, including holiday lights, snowflakes, trees and more, were taken from contestants from six countries.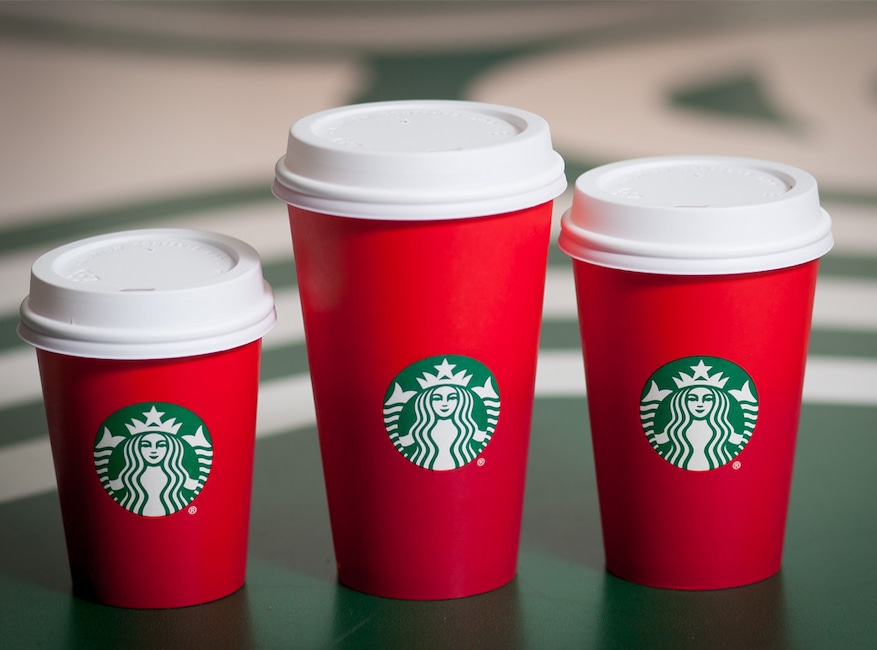 Starbucks
2015

Oh, the controversial red cup. After the 2015 minimalist cup was unveiled (Well, as minimalist as a bright red ombre paper cup can be), social media went wild, accusing the retailer of stripping all signs of Christmas from the annual offering. #MerryChristamasStarbucks" trended on Facebook after an Arizona pastor posted a video rant about the lack of Christmas on his cup that was viewed over 11 million times.
"In response to the video, our core values as a company is to create a culture of belonging, inclusion and diversity," Starbucks said in a statement at the time. "Each year during the holidays we aim to bring our customers an experience that inspires the spirit of the season and we will continue to embrace and welcome customers from all backgrounds and religions in our stores around the world."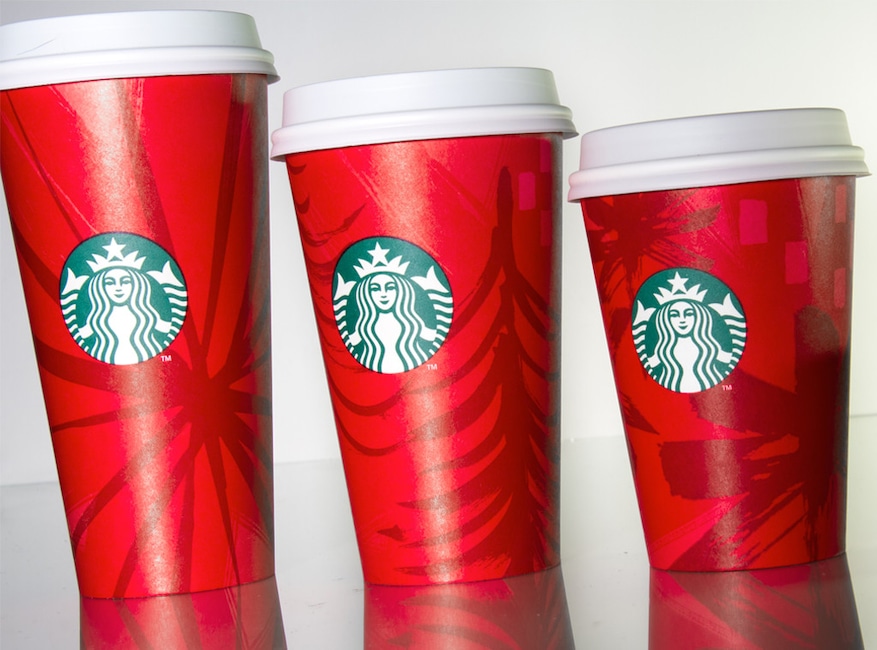 Starbucks
2014

Simple and classic, 2014's red cup featured brush-stroke trees and snowflakes.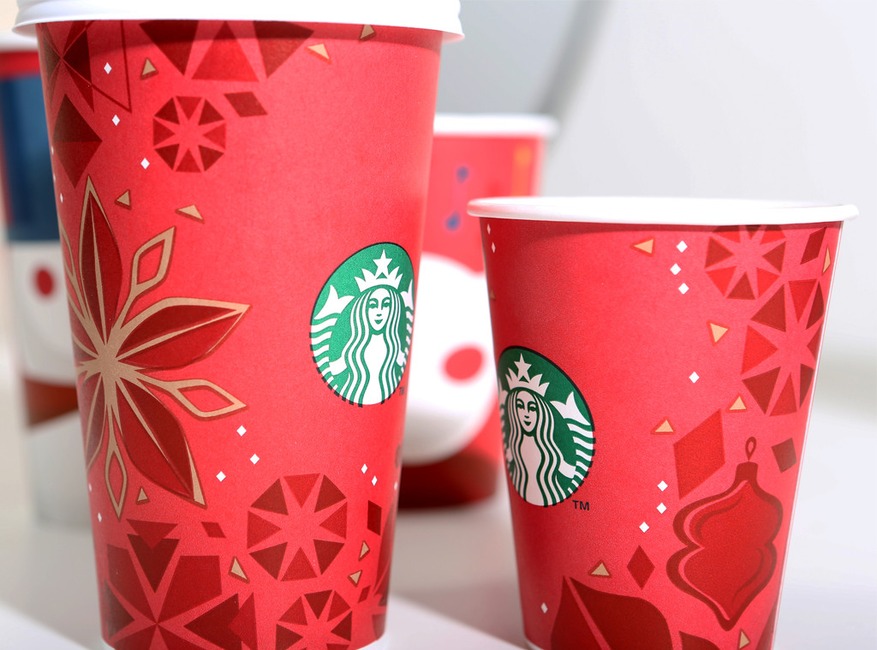 Starbucks
2013

These red cups were all about the hardware aka ornaments.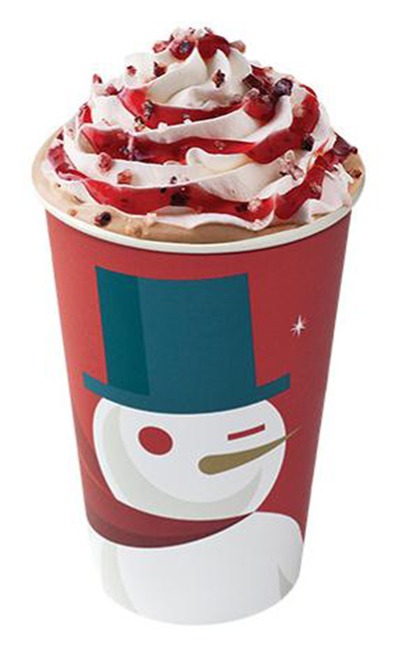 Starbucks
2012

I always feel like somebody's watching me…and it's because there is a giant snowman winking at me as I down a Trenta Peppermint Mocha. Pretty sure that's how the song goes!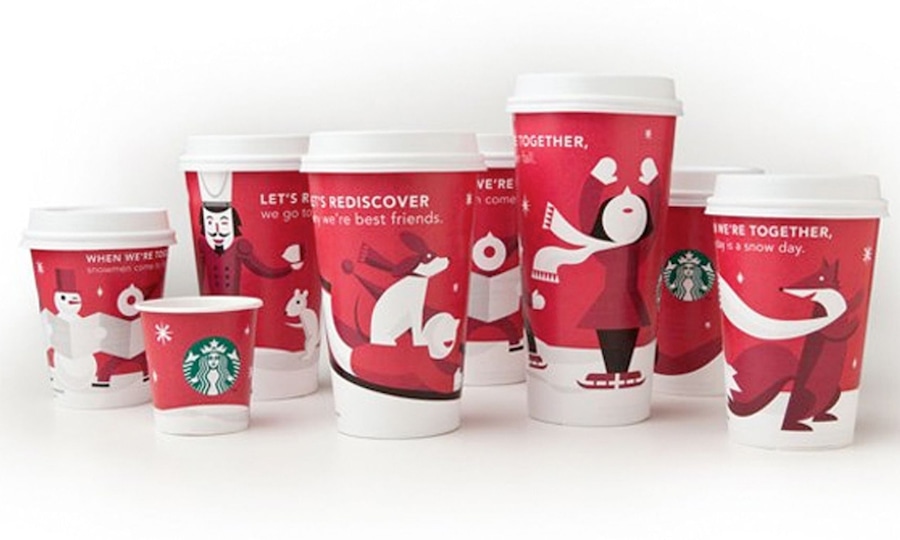 Starbucks
2011

Each cup featured warm and fuzzy sentiments as well as carolers, animals and showmen. (Also, this was the year the Skinny Peppermint Mocha, may it now rest in peace, was introduced.)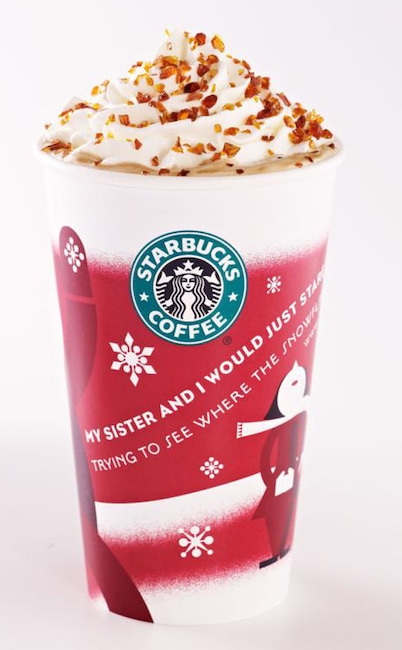 Starbucks
2010

Because everyone loves carolers (as long as they are not actually singing awkwardly in front of you on your porch), Sbux featured carolers and their lyrics on the 2010 cups.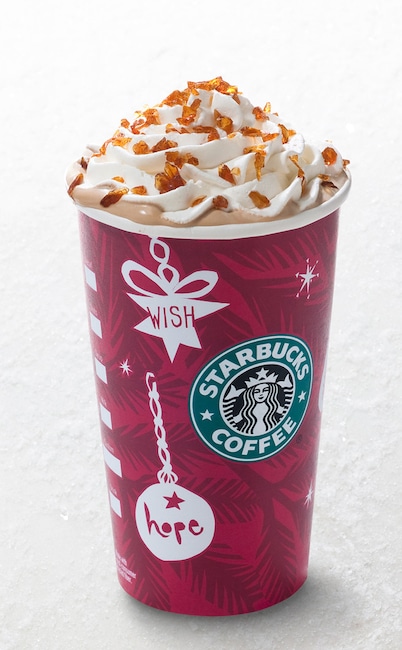 Starbucks
2009

This red cup highlighted classic holiday buzz-words like "hope" and "wish" and other ooey-gooey words that are likely stenciled all over your mom's Christmas tchotchkes.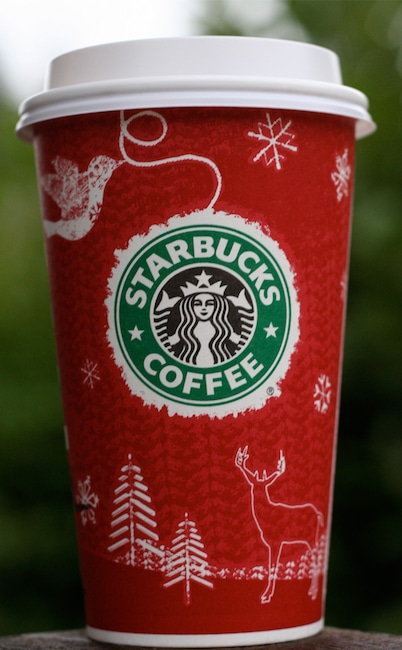 flickr.com/photos/martincron/
2008

We love the subtle illustration making the Starbucks logo an ornament!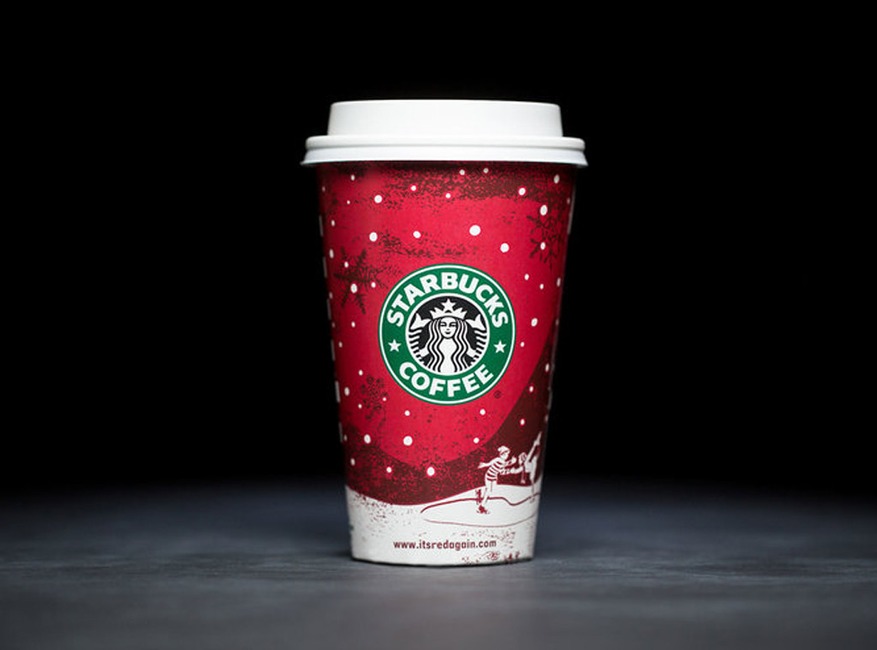 Starbucks
2007

Dashing through the snow, in a one-horse open sleigh, through the traffic we go to get our hands on our eggnog latte! "Pass the cheer," was the theme of 2007's red cup season, with the coffee sleeves featuring that slogan with a cheery blue and snow flake-filled backdrop.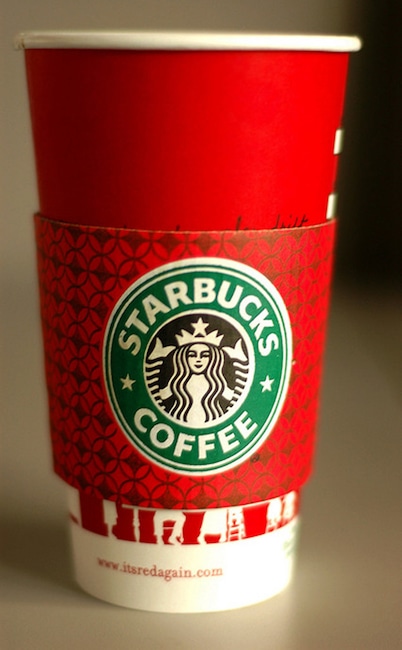 flickr.com/photos/cloughridge
2006

Business on top, party on the bottom, with the bottom of the 2006 red cup featuring holiday shoppers and ice skaters for a festive trim.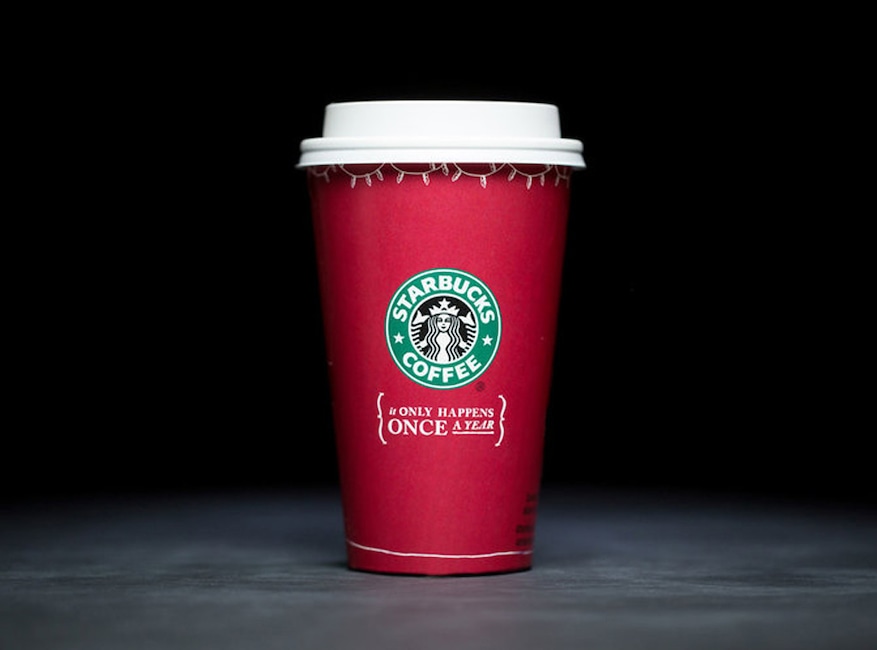 Starbucks
2005

"It only happens once a year." And to think people looked forward to the red cups this much pre-social media and the dawn of the red cup selfie. 
Don't miss E! News every weeknight at 7, only on E!