POPSUGAR Photography | Angela Elias
POPSUGAR Photography | Angela Elias
As POPSUGAR editors, we independently select and write about stuff we love and think you'll like too. If you buy a product we have recommended, we may receive affiliate commission, which in turn supports our work.
As a mom who works remotely, I've come to terms with the fact that joggers and sneakers have replaced blazers, delicate blouses, and heeled boots as my daily uniform. While comfort and convenience are the guiding forces behind most of my fashion choices these days, I still love pulling together an outfit. Monochromatic sweatsuits are wardrobe gold for me. They're comfortable, polished, and endlessly versatile, and I'm never not keeping an eye out for a new one in a color I'm missing. Last year, I snagged a couple of wide-leg sweatpants with matching crewneck sweatshirts from the GAP that look sharp but feel like pajamas. This year, I found a similar pairing at Old Navy for nearly half the price. Old Navy's High-Waisted Dynamic Fleece Wide-Leg Trouser Pants ($31, originally $45) and Vintage Crewneck Sweatshirt ($24, originally $35) are a match made in sweatsuit heaven, and I know I'll be wearing them on repeat all season.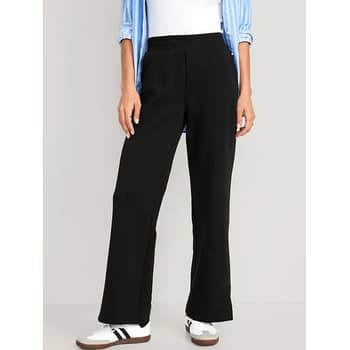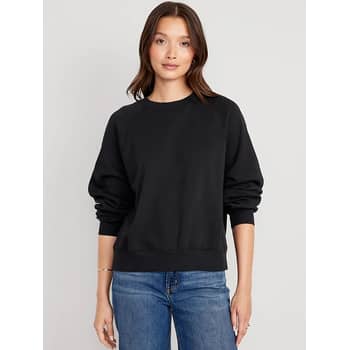 What I Like About Old Navy's Fleece Wide-Leg Trouser Pants and Vintage Crewneck Sweatshirt
Let's start with the fleece trouser pants. The high-waisted, wide-leg cut creates a flattering silhouette you can easily pair with a cute sweater, like my favorite Polo Sweater from Old Navy, for a slightly dressier look. The seamed legs and slits on the hem of the pants add to the trouser aesthetic. In black, it's almost hard to tell they're sweats, but the soft texture has an unmistakable fleece feel. They have pockets at the hip that are lined with a ventilated sports fabric. They're not too thick or heavy but still feel comfortable on a chilly day.
The sweatshirt has a vintage vibe, with its slightly cropped length, crewneck, and soft-washed fleece that feels like a well-loved T-shirt. I like that it hits the top of my hip and is relaxed without looking sloppy. The length is perfect for wearing with high-waisted jeans, or in this case, high-waisted sweatpants in the same color. I like to tuck just a few inches of the front of the sweatshirt into my pants to create more of a defined waist.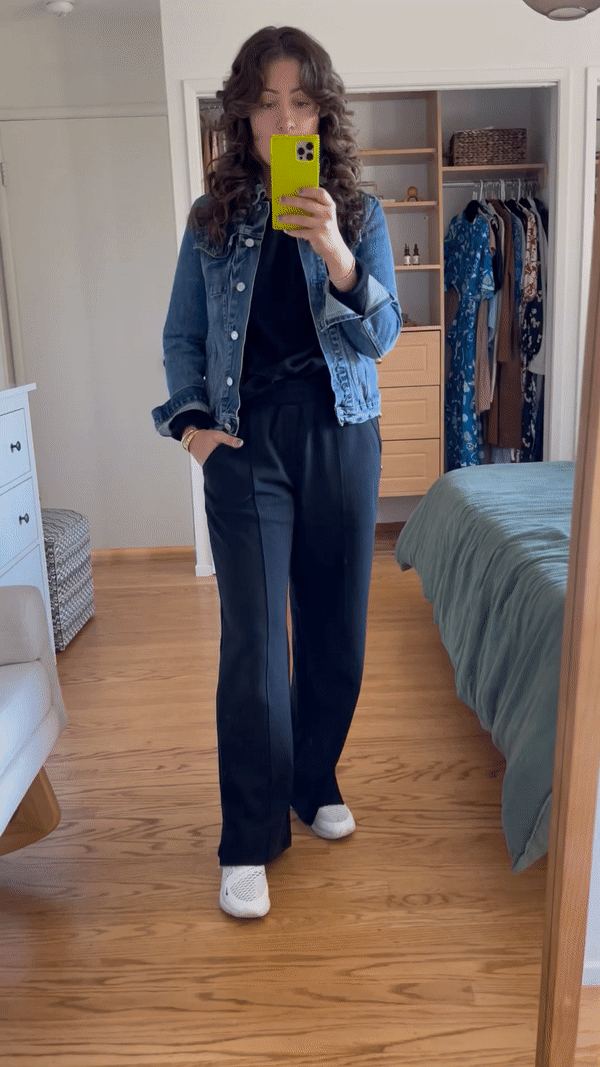 What's Worth Noting About Old Navy's Fleece Wide-Leg Trouser Pants and Vintage Crewneck Sweatshirt
The sweatshirt is lined with the sort of soft material you'd hope to have in a fleece sweatshirt, so it's really cozy and comfortable. The fleece trouser pants look the same on the outside as the sweatshirt, but they don't have the same soft lining. They feel more similar to thick leggings rather than cozy sweatpants with soft, fleece lining. They're still comfortable and softer than jeans, but don't have the plush feel you'd expect from traditional fleece sweatpants. This is the biggest difference I noticed from GAP's wide-leg sweatpants, which look the same but feel more like the sweatshirt.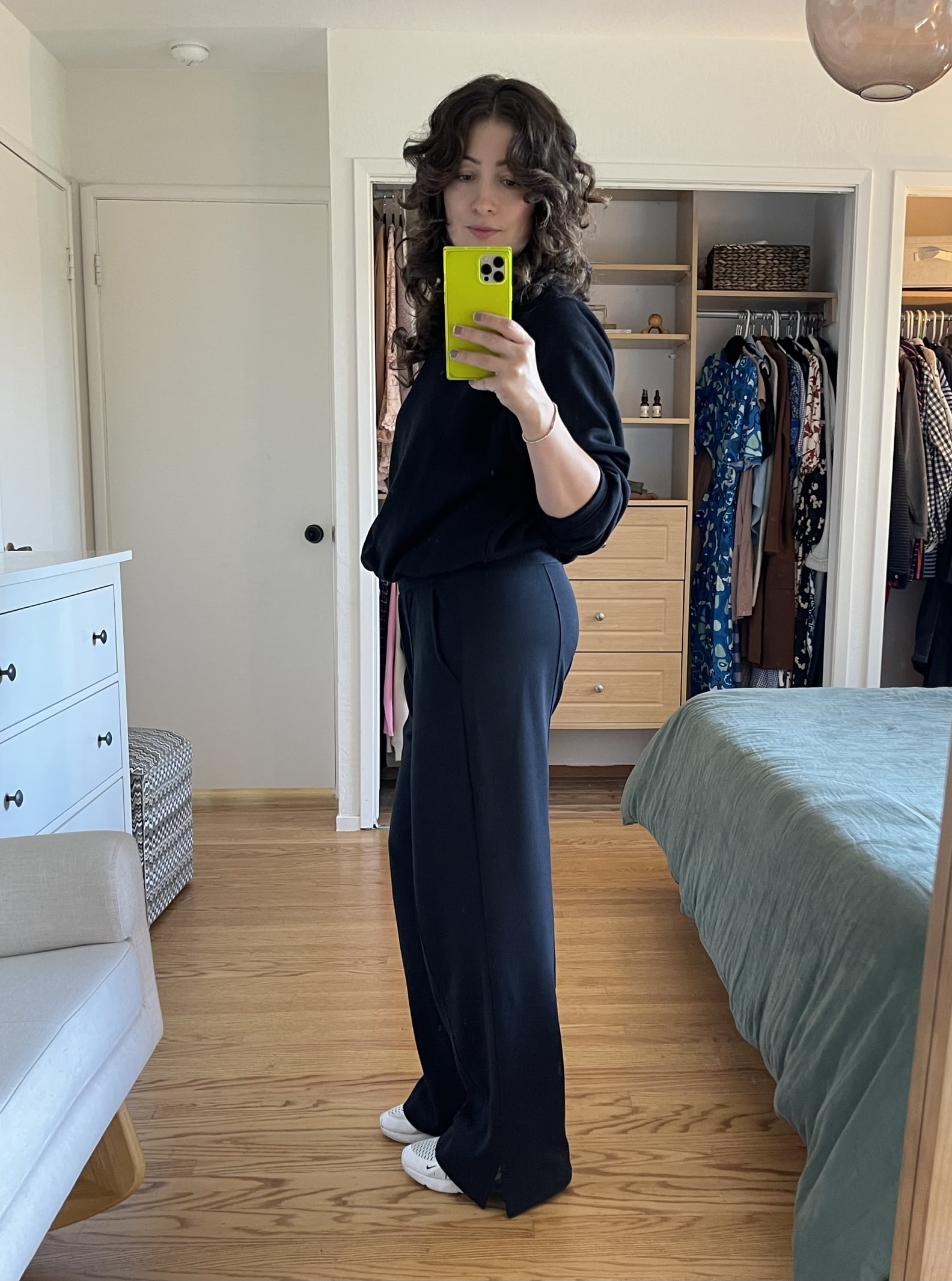 Who Is Old Navy's Fleece Wide-Leg Trouser Pants and Vintage Crewneck Sweatshirt Best For?
The sweatshirt and fleece trousers are perfect for someone who gravitates towards wide-leg styles of pants and wants a more polished version of a monochromatic sweatsuit. If you're also on a budget and don't want to spend a ton of money on loungewear, these pieces are definitely worth trying.
Both the sweatshirt and fleece trousers come in several colors, but black is the only option if you want the top and bottom to match for a sweatsuit vibe. If that's not as important to you, you can experiment with pairing the fleece trousers with all sorts of tops, from distressed denim jackets to collared button ups and plaid shackets.
Additional Details
The sweatshirt is made of 90 percent cotton and 10 percent polyester.
The fleece trousers are made of 69 percent cotton, 26 percent polyester and five percent spandex.
The pants come in six colors and the sweatshirt comes in six colors, but the only color in common is black.
Rating:
★★★★